Welcome to the United AlyCraft Archives!
Welcome to the home of the United AlyCraft archives! This site contains a variety of archived web and forum content from earlier on in United AlyCraft's lifespan.
All of the web content available consists of read-only, static content. In other words, what you see is what you get. There is no support for logins, the creation of new topics, or anything else of that sort.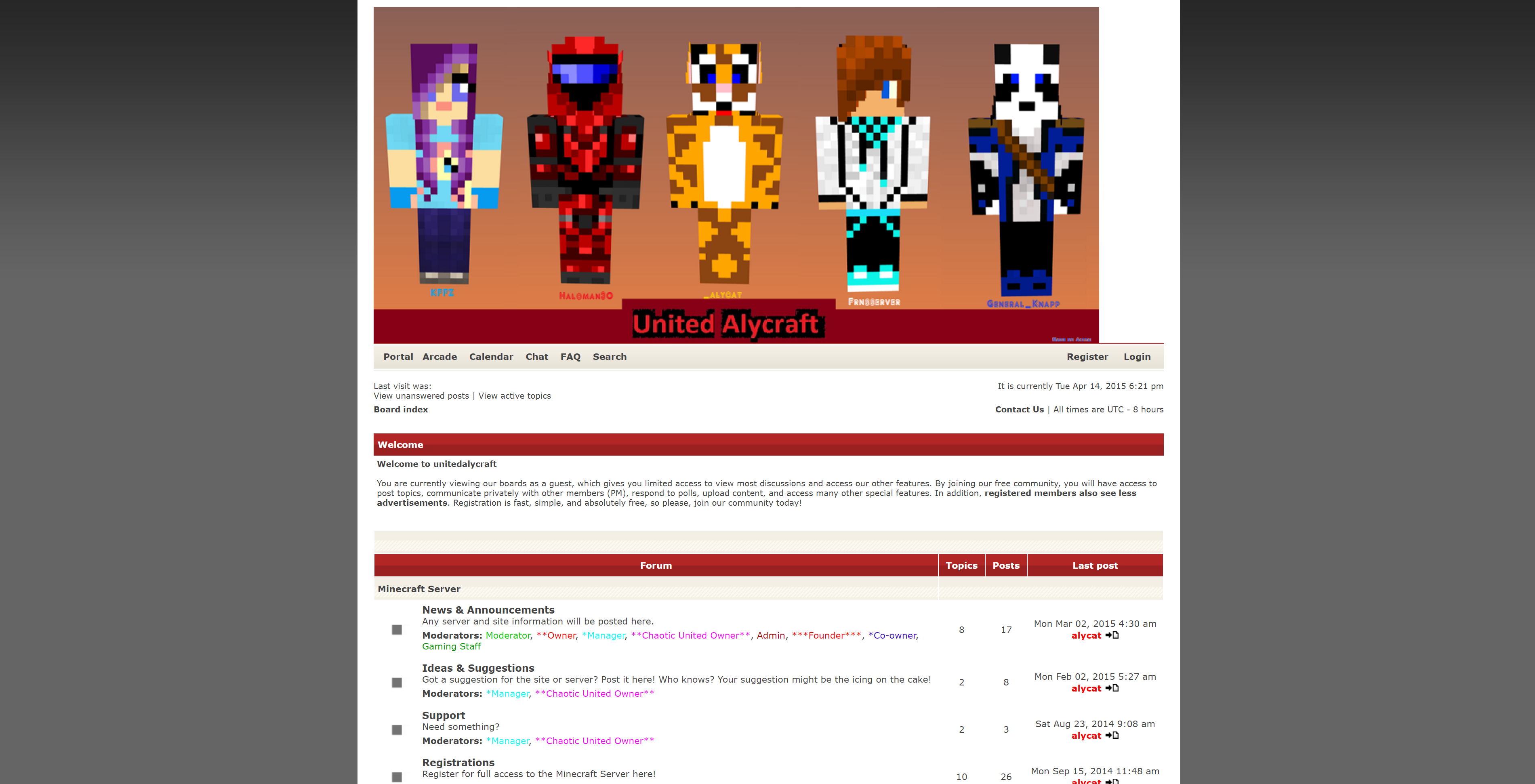 Forums (4-14-2015)
This is a snapshot of the forums, taken on April 14, 2015. While most pages display properly, most topic listing pages are reverted to the phpBB mobile theme for unknown reasons. All known topics has been preserved, however.

View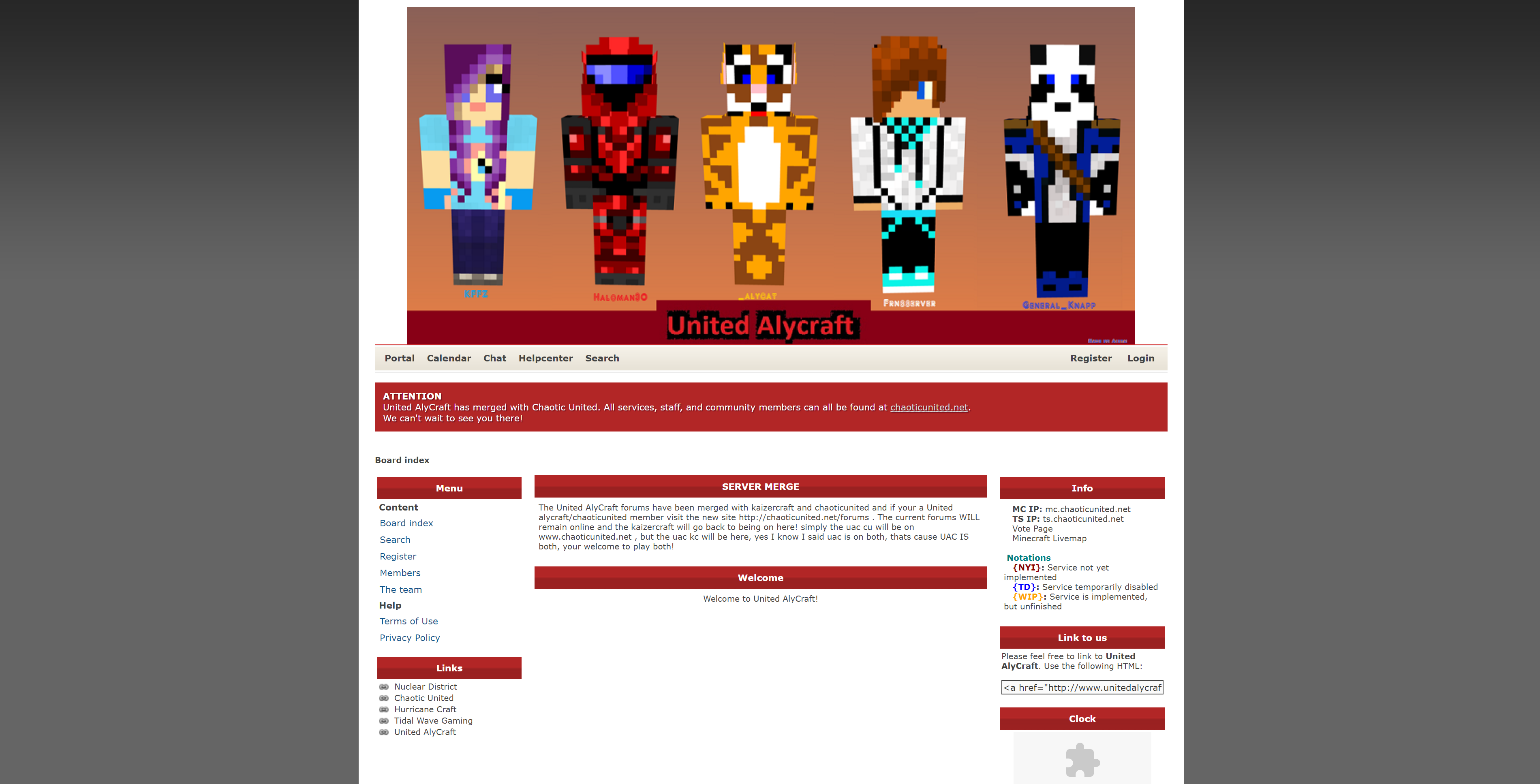 Landing Page
This is the landing page that was shown on unitedalycraft.com from the forums shutdown until the 2023 redesign. Several versions are available - the first one being used during Chaotic United's merge with Nuclear District, the second being a revised version from 2018, and the final revised version from 2020.

Original (ND Merge)

2018 Revision

2020 Revision (Final)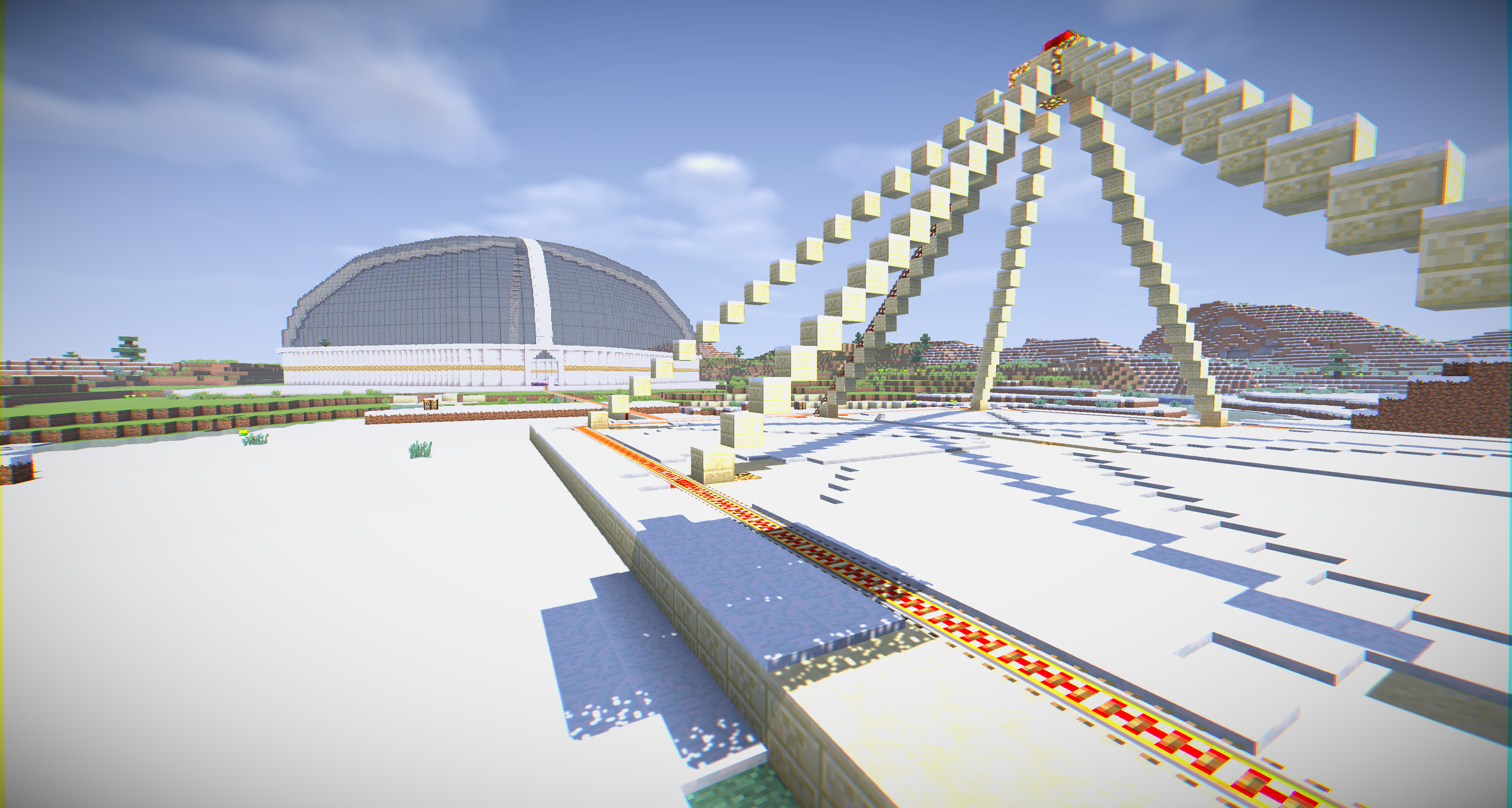 KaizerCraft Minecraft Worlds
These are worlds from KaizerCraft's MC server, as of late 2014. These were obtained during the failed merge between Chaotic United and KaizerCraft, and were preserved until their eventual public release by Chaotic United in 2021.

View
Frequently Asked Questions
Have a question about something? Check the info below.
What was United AlyCraft?
United AlyCraft was a Minecraft Server and community operated primarily by alycat, with the aid of others such as kffz (kfflittle), haloman30, frnsserver (Kaizer), and GeneralKnapp. Throughout its life, it never had an "official" server - rather, it established partnerships with other servers.
Over the years, it managed to build a small but loyal community, which remained around until United AlyCraft merged into Chaotic United and ceased independent operations - with some members following over after the merge.
What Happened to United AlyCraft?
In 2014, United AlyCraft formally merged with the re-established Chaotic United gaming community, under the new leadership of haloman30 and alycat. After this merge took place, all previous United AlyCraft services were discontinued - with the equivalent Chaotic United services serving as their replacements.
After the shutdown of freeforums.org, the forum service that powered the United AlyCraft forums, the unitedalycraft.com domain has served as a landing page to primarily guide users to Chaotic United. In 2023, a redesigned website was created, and the archives preserved by haloman30 were made public for users to view once again.
Will United AlyCraft ever return?
Most likely, no. United AlyCraft has not independently operated since 2014, and Chaotic United continues to carry the torch to this day.
Can I get my UAC rank back on Chaotic United?
If you purchased a rank, sure! Some form of proof of purchase will be required, of course. Chaotic United's ranks do not quite match 1:1 with the previous ranks on United AlyCraft, and as such, you'd be given a rank with the closest equivalent price of what you paid originally.
If you previously held a staff rank, however, these are generally not re-issued. You would need to re-apply for staff at Chaotic United, which you can do here.
What services does Chaotic United offer?
Chaotic United offers a multitude of services, with the primary focus being on its main Minecraft server, which is consistently kept up-to-date with the latest versions of Minecraft. Additionally, Chaotic United has its own forums, along with a Discord server - which collectively serve as the hub for the community as a whole. Other specialized services are also offered, including Modded Minecraft, Minecraft Beta 1.7.3, and Valheim. The IP addresses and information pages for each of these is listed below:
Who are the people in the header image?
From left to right: kffz (kfflittle), haloman30, alycat, frnsserver (Kaizer), GeneralKnapp